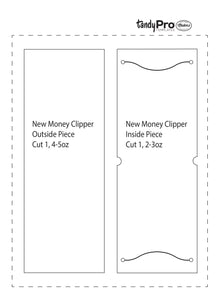 THIS PROJECT VIDEO WILL BEGIN AT 12 NOON (Central Time) on 1 May 2020
So here we are in unprecedented times- lots of folks sitting and waiting and we don't even know what we are waiting for... so I plan to do what I can to make that time fun and dare I say... educational!  We will have a live class where we can build projects together- interactively.  I will have a moderator on my end reading me any questions that are posted and I will answer them on the video.  
This download is for a new variation of our Money Clipper wallet.  It is simpe and easy to make  When printing, the dashed line box should measure 7" x 9"
So- how's THAT for social distancing?  We can build  a project together and not even have to cough on each other!