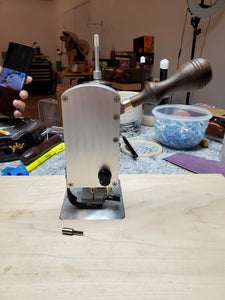 It took over a year to get them, but the Punch-O-Matic stitching punch is finally here.  It punches holes for stitching or lacing and automatically feeds your material for the next stitch.  The knob on the front allows the user to switch between 4 different stitch lengths.
The machine comes with 2 blades, a smaller for hand stitching and a larger for lacing and buckstitch.
The Punch-O-Matic must be mounted to a secure surface for easy operation.  If you would like a board like mine is mounted on, please select that when adding the item to your cart.
Here is a video demonstration on this tool: Click for Video