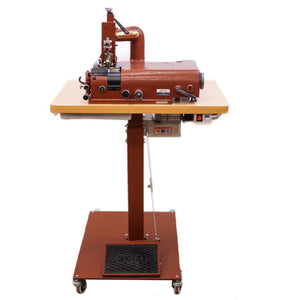 These bell skivers are awesome. For anyone who does a lot of edge skiving, this machine will make it fast and accurate every time.

Skives the thickest of leathers to any thickness
Skives thin and garment leathers accurately and easily
BOTH TOP AND BOTTOM FEED DRIVE SYSTEM
Heavy Duty Guide
Fully adjustable
Adjustable speed
 We currently do not have any machines in stock at our location therefore all machines ordered on the website will be directly drop shipped from Leather Machine Co. The current turnaround time for machines is 2-5 weeks. If you have any questions please give us a call.