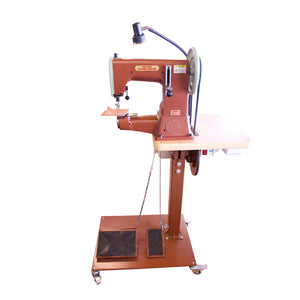 The Cobra Class 3 machine is so versatile, it doesn't matter if you are sewing wallets using Size 138 thread or saddle Skirting using Size 346 thread! This machine can handle it all. That plus the Leather Machine Company's LEGENDARY customer service and warranty make this machine a good investment for your leather shop!

The COBRA Class 3 will sew from 6 oz to 3/4" leather including skirting, all types of tack, bullet loops, chap leather, and everything in between with ease. The Cobra Class 3 comes with many new features including our new style heavy duty multi-purpose presser feet. They are strong and compact, allowing you to sew in small areas easier than ever before! The Cobra Class 3 comes complete with heavy duty pedestal stand on wheels, Digital DC Servo Motor, SR2 Heavy Duty Speed Reducer, extra needles, extra bobbins, thread, roller edge guide, tools, oil, and manuals. SHIPPED BY FREIGHT! CALL FOR CHARGES!
 We currently do not have any machines in stock at our location therefore all machines ordered on the website will be directly drop shipped from Leather Machine Co. The current turnaround time for machines is 2-5 weeks. If you have any questions please give us a call.