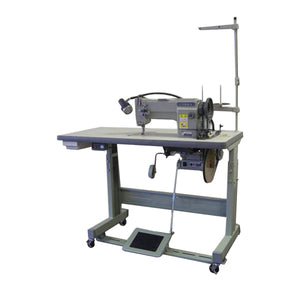 We have owned a Cobra Class 18 in our shop for several years and couldn't be happier! It is amazing on wallets, light belts, and anything else where smaller threads and stitching are required.

Our COBRA Class 18 Needle Feed Walking Foot Machine is sturdy enough to handle leather and fabric up to 20 oz. (depending on material)

FEATURES:
Sews up to 20 oz. (depending on material)
Compound Needle Feed (Triple Feed) Walking Foot
Big Bobbin (M style)
Uses thread sizes from 69 to 207
Safety Clutch for hook protection
Digital D.C. Servo Motor
Heavy Duty Speed Reducer
Flat Bed stand with locking casters
LED light
Thread stand and bobbin winder

ACCESSORIES:
10 needles
Thread-oil-tool package
Four bobbins (M style)
Magnetic Guide
Owner and parts manual
 We currently do not have any machines in stock at our location therefore all machines ordered on the website will be directly drop shipped from Leather Machine Co. The current turnaround time for machines is 2-5 weeks. If you have any questions please give us a call.